The Cauldron is now accepting submissions for the 2023-2024 edition.
Submission deadline: January 26, 2024
The Cauldron is a student organization producing Kalamazoo College's annual literary and visual arts magazine. It is a magazine with a long history. The College archives, in fact, hold an issue from 1962. Although the magazine has experienced important transformations since then, its mission—to publish poetry, fiction and creative nonfiction, as well as representative pieces of visual art, created by Kalamazoo College students—remains intact. The magazine's aim is to showcase the broad diversity of student voices that compose this campus, voices that grapple with a wide range of personal, political and aesthetic concerns.
The Cauldron's overall excellence reflects a college community deeply engaged in the arts. Much of the writing in the magazine arises from the English Department's vigorous creative writing program, and its editorial staff is composed of English and Art majors and minors. The magazine's staff is responsible for its overall design, and receives support, advice and design services from the Director of Publications for the College's Office of Communication. All of The Cauldron's editorial choices belong to the student editorial staff.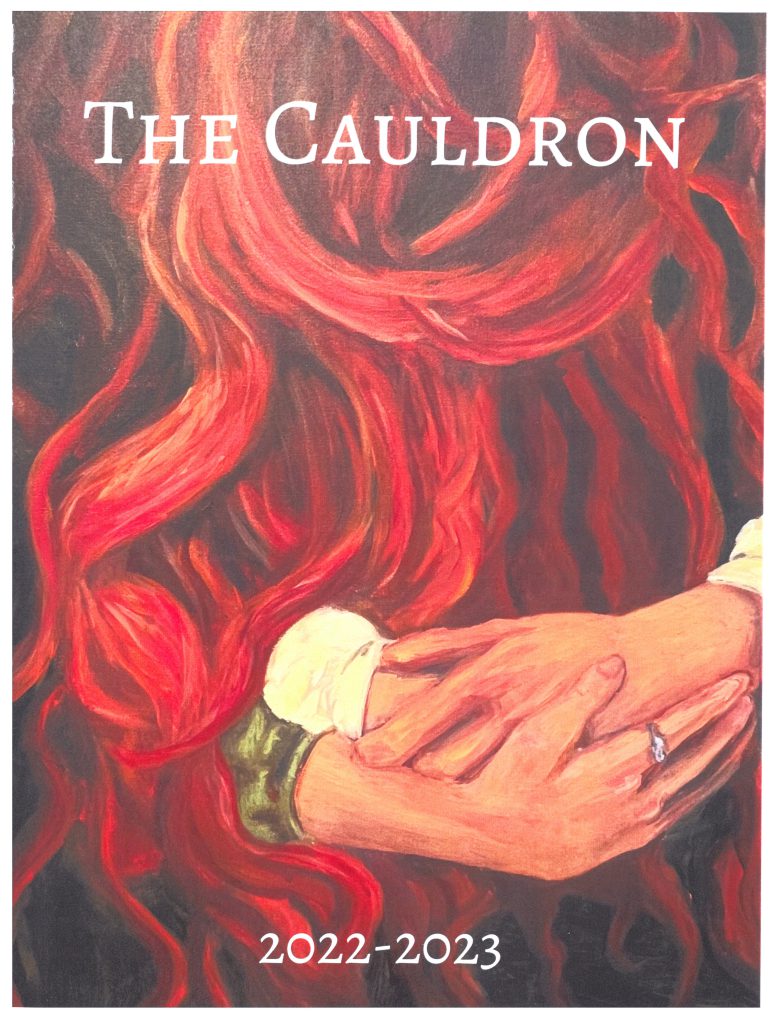 The 2022-2023 Cauldron is here. You can find hard copies in the Library, Hicks Center, or the Humphrey House. You can view the electronic version here.
Each Spring Quarter, The Cauldron is unveiled in Stetson Chapel on Friday of 9th week. The program features the presentation of three Divine Crow Awards and the Stephanie Vibbert Award, and performances by the award winners. The Divine Crow Awards are given for the three pieces of writing in each year's magazine, regardless of genre, considered most excellent by the judges. Judges are members of the English Department who do not teach creative writing courses, as all of the writing is judged anonymously.
The Stephanie Vibbert Award is given to one piece of writing in the magazine which most exemplifies the intersection between creative writing and community engagement. This award honors Stephanie Vibbert, an English/Psychology double major who died in a car accident, returning from a peace march in Washington D.C., in her senior year at K. Stephanie's life was passionately devoted to both creativity and to community service. This award was created to encourage Kalamazoo College writers to use their creativity to reflect upon and explore issues of poverty, human rights, sexual orientation, race, class, gender and cultural diversity.
The Cauldron receives most of its financial support from the Kalamazoo College Student Commission. Generous donations from alumni and their families have also allowed the magazine to maintain its excellence.