Professor of English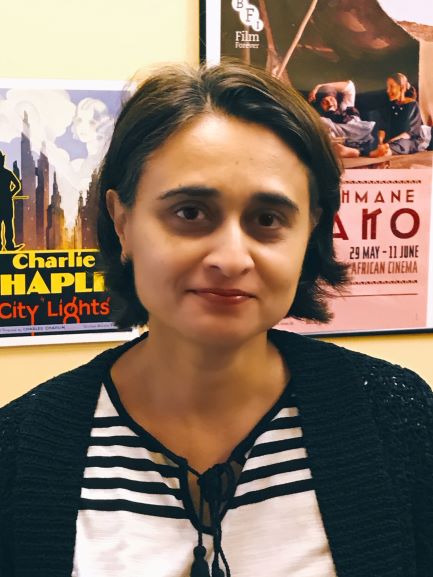 Phone: 269.337.7075
Office: Humphrey House, room 203
Email: Babli.Sinha@kzoo.edu
BA, Washington and Lee University
MA, Indiana University, Bloomington
MA, PhD, The University of Chicago
---
About Babli:
How did you end up a college prof?
I had a long and winding road to graduate school. After graduating from Washington and Lee University with a degree in French and English, I was uncertain as to my future path and began working on the production side of the publishing business in New York. In my spare time, I was reading the material to which I had never been exposed in college, namely African, South Asian, Francophone, and Anglophone literature, film, and post-colonial theory. I began a PhD program in French at Indiana University, Bloomington and found that I missed the interdisciplinarity and comparative frameworks happening in English graduate programs. I left Indiana after my MA in French literature and began my studies at the University of Chicago. In the English program at the University of Chicago, I was able to study film and literature with a global and theoretical perspective. After my PhD, I taught and participated in a post-doctoral program at UCLA entitled Cultures in Transnational Perspective prior to arriving at K in the fall of 2008.
What do you love about K?
I love the seriousness and engagement of the students. Having taught at a number of larger institutions, I can say with certainty that it is a rarity to have classes in which student motivation and preparedness can be taken for granted. It allows our classes to be spaces in which we can have rigorous discussions about the political, aesthetic, and cultural issues engaged by literary texts.
Book or film that you love?
Charles Burnett's 1978 film Killer of Sheep is a beautiful story of Stan, a sensitive African-American man living in Compton. His sensibilities are at odds with the toughness needed to do his work in the slaughterhouse and to support his family in a segregated America. The images of Stan dancing in the moonlight with his wife and enjoying the warmth of a teacup against his cheek speak to the ability of cinema to re-sensitize distracted spectators to the sensory experiences of life, and the ironic use of music in the film exposes the inequalities that undergird American society.
---
Bio:
Babli Sinha is Associate Professor of English and Director of Media Studies at Kalamazoo College. She received a PhD in English literature from The University of Chicago, a MA in French literature from Indiana University, Bloomington, and a BA in French and English literatures from Washington and Lee University. She is the author of Cinema, Transnationalism, and Colonial India: Entertaining the Raj (Routledge, 2013) and editor of South Asian Transnationalisms: Cultural Exchange in the Twentieth Century (Routledge, 2012). Articles include "Empire films and the dissemination of Americanism in colonial India," (South Asian History and Culture, 2011), "Dissensus, Education, and Lala Lajpat Rai's Encounter with W.E.B. DuBois," (South Asian History and Culture, 2015), "'Lowering our Prestige': American cinema, mass consumerism, and racial anxiety in colonial India." (Comparative Studies of South Asia, Africa, and the Middle East, 2009), "Trauma, Realism, and the Bengal Famine of 1943," (Cultural Dynamics, 2020), "Collective Suffering and the possibility of empathy in Karan Mahajan's The Association of Small Bombs and Kiran Desai's The Inheritance of Loss (Commonwealth Literature, 2018), "The BBC Eastern Service and the Crisis of Cosmopolitanism." Historical Journal of Film, Radio, and Television, 2018), "Managing Orientalism: Biography, Performance, and the Films of Sabu and Merle Oberon." (South Asian Diaspora, 2016), and "A "strangely un-English actress": Race, legibility, and the films of Merle Oberon." Journal of Popular Film and Television, 2016).
---
Courses taught:
ENGL 152: RTW: Genre: (the Novel)
ENGL 153: RTW: Classical Hollywood in a Global Context
ENGL/SEMN 219: Magical Realism
ENGL 221: African Literature
ENGL 260: Studies in Film (African Cinema, New Waves)
ENGL 318: Post-Colonial Literatures (Applied Theory)
ENGL 434: Advanced Film Theory: (Cinema and the Spectator)
ENGL 436: Advanced Literary Theory
---
Publications:
The Bengal Famine and Cultural Production: Signifying Colonial Trauma
(Routledge 2023)
Cinema, Transnationalism, and Colonial India: Entertaining the Raj
(Routledge 2013)
South Asian Transnationalisms: Cultural Exchange in the Twentieth Century (Routledge 2012)
Dr. Sinha's articles have appeared in Commonwealth Literature, South Asian History and Culture, Cultural Dynamics, Comparative Studies of South Asia, Africa, and the Middle East, Historical Journal of Film, Radio, and Television, South Asian Diaspora, and Journal of Popular Film and Television