Associate Professor of English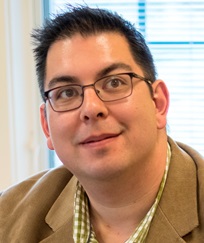 Phone: 269.337.7046
Office: Humphrey House, room 209
Email: Ryan.Fong@kzoo.edu
PhD: University of California, Davis
MA: University of California, Davis
BA: Whittier College
---
About Ryan:
Book that changed your life?
Bleak House by Charles Dickens. As surprising as it may seem now, I thought that I hated Victorian literature for the first 25 years of my life. I even had a special disdain for Dickens, who I had dismissed as dreadfully and irredeemably boring. As a result, when I was "forced" to take seminar in Nineteenth-century British Literature as a graduate student, I was filled with great dread at the prospect of having to read not just any Dickens novel, but one that in many editions is over 1000 pages. Once I read the opening paragraphs, however, something clicked. I was hooked and completely blown away by the richness of the description and the way the novel layered metaphor upon metaphor to capture every facet of London life. For me, the book had it all: memorable and often hilarious characters, a fascinating plot, and a devastating social critique. I read the book pretty much non-stop over three days. After that seminar, which featured many more wonderful novels that I have come to love but previously avoided, I switched my period of specialization to the 19th century, which meant completely reshaping my dissertation and research. This shift would have been life-changing in its own right, but was significant for another reason. Indeed, I have Bleak House to thank for my being at K College at all, since I was hired to teach Nineteenth-century British Literature and would never have been qualified for the job without the transformation it caused!
What made you decide to become an English major?
I knew I wanted to be an English major from the moment I started college. I think my reasons were the same as most folks who know this coming in: I loved (and still love) to read. As I have dedicated my life to literary study, this love still carries me, but like all loves, it has deepened and grown and taken on many subtleties. While I will always consider myself a "plot junkie" who adores devouring a good story, I have developed an appreciation for slowing down with a text and savoring the its language and structures. As I have learned more about the way texts are put together, I remain perpetually fascinated by processes of meaning making that happen between an author, the reader and the page. Furthermore, as I have learned more and more about literary history, I have developed a fuller understanding of the ways that texts respond to moments in history and allow us to see the past in a whole new light. Most of all, I love talking about books with people. In any given classroom conversation, we will be seeing things and saying things about a text that no one has ever said in quite that same way and will never say in that exact way again. Helping one another grow in this process of intellectual and interpretive co-creation is magic to me and is the reason I decided to be a "English major" for the rest of my life.
Advice you can't stop giving?
Know your literary history. This goes for all of our students in the major, literary critics and creative writers alike. If you are a poet, learn as much as you can about the poets who have come before you, all the way back to Beowulf. If you adore studying and analyzing a particular period in literature, learn what comes before and after it, in order to chart the continuities and developments. You don't have to love everything you read. In fact, you won't. You also don't have to feel a strong personal connection to what you read. Not everything is immediately relevant or relatable to you and your experiences. But that's a good thing, since being a great writer and scholar means that you understand and can articulate your place in the long legacy of writing and literature. And it is a process of learning and understanding that never ends.
---
Bio:
Ryan D. Fong comes to Kalamazoo from California where he grew up and earned his MA and PhD in English at the University of California, Davis and his BA in English and Cultural Studies from Whittier College. His main area of teaching and research is nineteenth-century British literature, particularly of the Victorian period. He also teaches a wide range of additional classes for English–including Twentieth-century British Literature, literature by East Asian emigrants around the world, and literary theory—and regularly offers courses in the Women, Gender, and Sexuality program. Dr. Fong is currently working on his first book, which examines colonial and Indigenous literatures from across the British empire. Work from this project has appeared in the journals Victorian Studies and Victorian Literature and Culture. Beginning in the fall of 2020, he will be starting a two-year faculty fellowship at the Arcus Center for Social Justice Leadership, where he will be working on projects to center indigeneity in the Kalamazoo College curriculum and to make reparations to the local Potawatomi tribes of Michigan.
---
Courses Taught:
ENGL 150: RTW: Beyond Realism
ENGL/SEMN 227: Opium and the Making of the Modern World
ENGL 246: Modernism to Millennium: British Literature 1900-present
ENGL 267: Romantic Revolutions: Early 19th Century British Literature
ENGL 268: The Victorians: British Literature 1832-1900
ENGL 325: 19th-Century Women's Literature: The Epic Age
ENGL 331: East Asian Diasporic Literatures
ENGL 435: Advanced Literary Studies: Reading Like Victorians
ENGL 436: Advanced Topics in Literary Theory: Freud and Foucault
SEMN 125: Telling Queer Stories
SEMN 499: Social Justice and the American City
WGS 390: Feminist and Queer Inquiry