Professor of English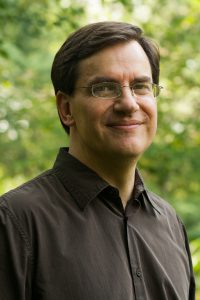 Phone: 269.337.7041
Office: Humphrey House, room 210
Email: Andrew.Mozina@kzoo.edu
PhD Washington University
MA Washington University,
Boston University
BA Northwestern University
---
About Andy:
Book that changed your life?
My first year out of college, I read an anthology of short stories edited by Tobias Wolff called Matters of Life and Death. I loved the variety of short stories in the book. Barry Hannah's "Testimony of Pilot"; Jayne Anne Phillips's "Home"; Richard Ford's "Rock Springs"; Ann Beattie's "Burning House"; Stanley Elkin's "The Conventional Wisdom"—each of these floored me in a different way, and I consciously and unconsciously mimicked them in all kinds of ways when I ended up trying to write short stories. I read these stories almost thirty years ago, and they're as fresh in my memory now as any other fiction I've read. It was the first book I read that I didn't want to end. These stories made me want to be a writer and eventually drop out of law school and that did change my life.
What do you love about K?
I've always loved the K-Plan. I think it's a brilliantly balanced education. I have to say I like it best in its classic form: broad liberal arts coursework, a career development internship, study abroad, the SIP. K students themselves are great. It's a luxury to work with students who are this engaged and interesting.
Advice you can't stop giving?
Read and write relentlessly. Also, your belt should match your shoes.
Advice you're eternally grateful you received?
Your belt should match your shoes.
---
Bio:
Andy Mozina grew up in Brookfield, WI, a suburb of Milwaukee. He studied economics at Northwestern University and later attended law school for a year. He earned a master's degree in creative writing from Boston University and moved to St. Louis where he completed a doctorate in English literature at Washington University. Finally, after graduate school, he moved to Kalamazoo to teach literature and creative writing at Kalamazoo College.
---
Courses Taught:
ENGL107: Introduction to Creative Writing
ENGL211: Intermediate Fiction Workshop
ENGL438: Advanced Fiction Workshop
ENGL152: Reading the World: Genre: Short Fiction
ENGL435: Advanced Literary Studies: Modernism and Sacrifice
First Year Seminar: Co-Authoring Your Life.
---
Publications:
He is the author of a book of literary criticism, Joseph Conrad and the Art of Sacrifice and two short story collections, The Women Were Leaving the Men, which won the Great Lakes Colleges Association New Writers Award, and Quality Snacks, which was a finalist for The Flannery O'Connor Short Fiction Award. His fiction has appeared in numerous magazines, including Tin House, Ecotone, Fence, The Southern Review, and The Missouri Review, and has received special citations in Best American Short Stories, Pushcart Prize, and New Stories from the Midwest. His first novel, Contrary Motion, about a concert harpist taking a symphony audition, was published in 2016 by Spiegel & Grau/Random House.